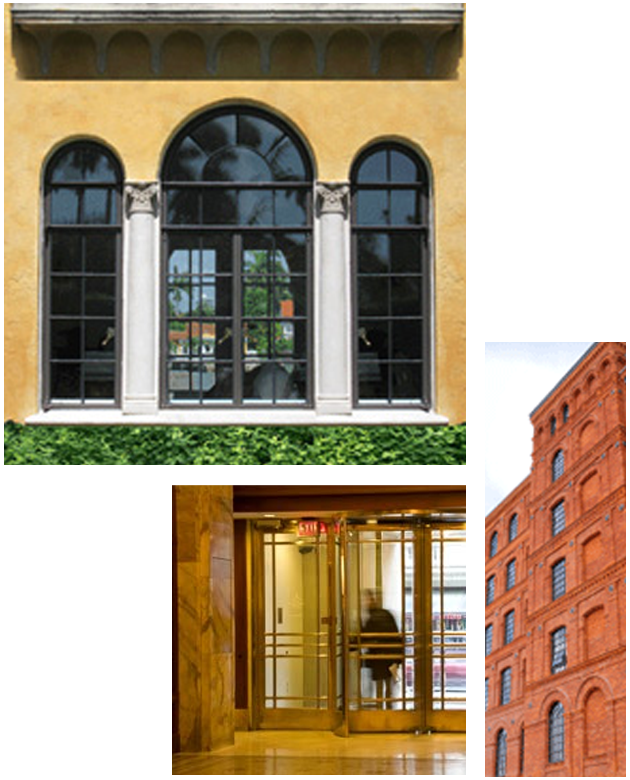 Our services are not limited
by project size, scope, or location.
---
We repair and restore steel casement windows and doors, factory steel windows and doors, and decorative bronze windows, doors, and spandrel panels, on projects of all sizes, and in states all across the Country. We are able to provide these services on-site or in our restoration shop, depending on the project scope and requirements.
Our Services Include:
Fenestration Consulting
Window Survey and Analysis
Condition Assessment Reports
Restoration Specifications
Preservation Planning
Design Development
Historic Paint Analysis
Leak Investigation
Asbestos and Lead Paint Abatement
Steel & Bronze Window and Door Restoration
---
As the nation's leading restorer of steel windows and doors, we have perfected the process, and have assembled a staff of top-notch craftsmen and artisans. We provide both on-site repair and off-site restoration of steel windows and doors. On-site work is performed with the proper equipment and processes to safely remove and contain the lead-based paints that are commonly found in some of the many layers of paint that have been applied to steel windows over the years. We safely remove the paint and carefully collect the old paint debris for proper disposal. All work that we perform is done in strict accordance with The Secretary of the Interior's Standards for Rehabilitation, and in compliance with OSHA and EPA regulations. Off-site work is performed in our restoration facility located in Wilmington, DE, and is typically less costly and more efficient to perform the work in our controlled environment, in addition to producing a higher grade of quality.
We also provide repair and restoration of bronze windows and doors. The repair and restoration procedures are virtually the same for bronze windows and doors as they are for steel windows, with the exception being that bronze must be handled much more carefully in all stages of the process, as bronze is a more delicate material, and the proper finishing of bronze requires a unique process which should only be carried out by experienced craftsmen.
Stained Glass & Leaded Glass Restoration
---
Many of our restoration projects are performed on century-old windows and doors, and many of those projects involve clear leaded glass and stained-glass panels. Our glass studio is equipped to perform on-site repairs and re-cementing, as well as in-studio re-leading and panel rebuilds, and intricate repairs to hand-painted glass pieces.
Hardware Restoration & Reproduction
---
The restoration of your windows and doors includes addressing any operating hardware that may be worn, broken, or missing. Whenever possible, we will repair your existing hardware. If a repair is not feasible, we will replace the worn or broken parts. In the event of missing hardware, we will cast and machine replacement parts that will match your hardware to exacting details.
Reproduction
---
In many cases, we encounter buildings that have had some of the original window and door units removed, replaced, or cut apart to accommodate air conditioning units or fans. In these situations, we are able to fabricate replacement sections to bring the units back to their original condition, or we will fabricate an entire reproduction unit to exactly match the others when needed.
Architectural Window Restoration has a state-of-the-art fabrication shop, staffed with experienced and very talented metal fabricators. We have fabricated steel sections, bronze sections, steel and bronze hardware components, complete window units, complete door units, structural columns for window installations, window modifications to accommodate local building code egress requirements, window modifications to limit opening distance, and a whole host of other requirements.
Storm Windows & Screens
---
When your project conditions or specifications call for storm windows or screens, allow us to show you our high-performance storm window and screen system. Our storm window system is available without the screen option, or can be combined with either a stationary screen, or a roll screen. Our narrow sight-line system is designed to work specifically with steel windows, and will provide your project with a storm and screen solution that is both beautiful and built to last a lifetime.
Project Design Development & Consulting
---
As the industry leader in the preservation and restoration of steel windows and doors, Architectural Window Restoration, Inc. is often called upon by project architects and engineers to assist in the development of the project-specific requirements. We bring a breadth of knowledge and experience to help understand the existing conditions, and what will be required to preserve the original windows and doors.
Survey and Analysis & Project Specification
---
Working with project design teams, we provide an in-depth survey of window and door conditions, along with a detailed analysis of the required scope of work. We provide project architects, engineers, and design teams with accurate job specific specifications. We offer paint analysis to determine the original paint color, energy efficient options to improve the thermal performance of the units and surrounding openings, and lead and ACM testing to determine the potential for environmental contaminants that may impact the project budget and schedule.